Antique & Vintage Dress Gallery
www.antiquedress.com
SOLD
13 IMAGES: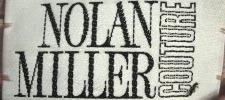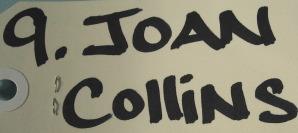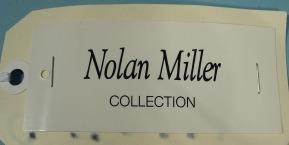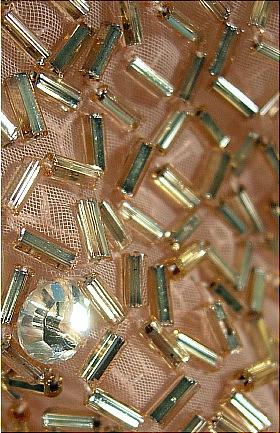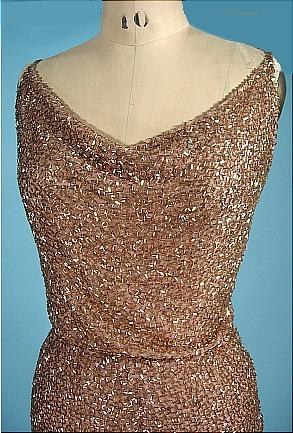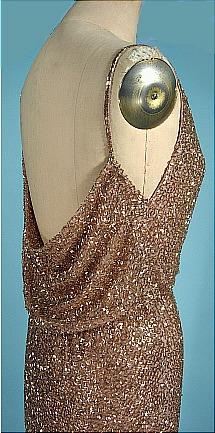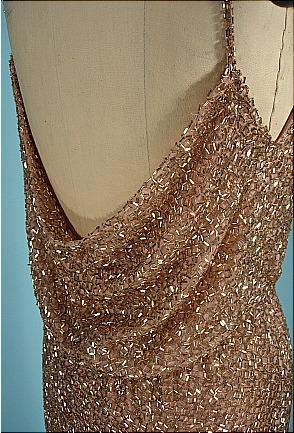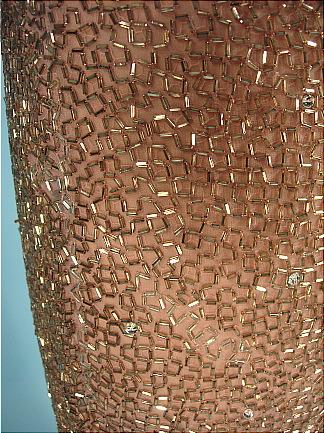 #6600 - c. 1980's JOAN COLLINS Worn on DYNASTY! NOLAN MILLER COUTURE Taupe Beaded Gown with Beaded Belt! Directly from an auction of many Nolan Miller's best entertainment items. Oh yeah, baby! One of the best Nolan Miller gowns... ever! So sexy!! Including that long front leg slit at front and that fabulous draped beaded low back!! Comes with original beaded belt that I totally forgot to photograph (so I added some lousy photos with the belt), but I like it without just as well, if not better, so... hey. Excellent condition with the exception of an area of beading that was re-done with slightly different beads (see photos). Not all that noticeable unless inspecting... and certainly you can re-bead again if you care. This is a totally collectable gown from the original Dynasty series - you'll just have to watch the series to find the gown!! Measures: 36" bust, 25" waist, up to 36" hips, 57" long from shoulder to hem. Side zipper. NOTE: Same gown also worn by Sally Field in Soapdish!

Approx. - SIZE 4, small 6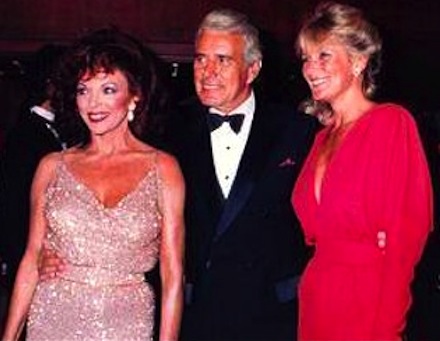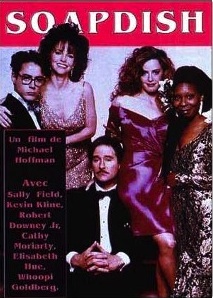 LISTING from AUCTION:
Nolan Miller Design for Dynasty, Belted Flesh-Colored Beaded Gown Worn by Joan Collins for her Role as Alexis. Ca.1985.
Gown: silk chiffon, bugle beads; Label: Nolan Miller Couture; Dress Size: 8.
Nolan Miller designed this gown for Joan Collins' role as "Alexis" on Dynasty. He created a specific "look" for each character and here one sees an example of the rich, powerful, domineering wardrobe designed for Alexis which was inspired by Joan Crawford. The aired episode is unknown for this gown. Fine condition with no noticeable bead loss. From the Nolan Miller Collection.
Condition Report: Normal signs of wear as appropriate with age. Fine condition with no noticeable bead loss.

Flesh-colored chiffon, floor-length gown with draped bodice and spaghetti straps. The straight skirt is slightly gathered at the waist, with a center front slit that gradually curves from floor to mid thigh. The dress is hand-beaded with a tight overall zig-zag pattern and randomly placed faceted round beads. The spaghetti straps are beaded in three rows. The dress is closed with a zipper on the right side, and is fully lined in flesh colored chiffon. A weight has been attached to the lining at the back neckline, pulling the neckline down to enhance the draped effect. At the interior waist is a ribbon belt tied to the lining and secured with hook & eye. There is also an "eye" at the top of the slit, beaded like the dress and edged with two rows of bugle beads.
ITEM #6617
Please use this number to order