Antique & Vintage Dress Gallery
www.antiquedress.com
8 IMAGES: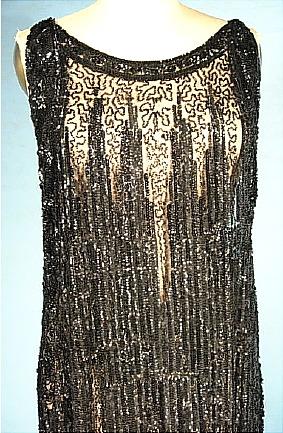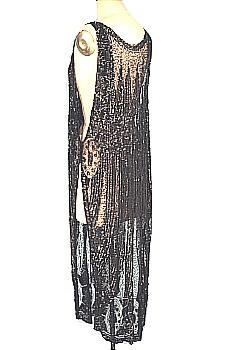 #4472 - c. early 1920's (likely French) Deco Black Beaded and Sequin Tabard Overdress! I just fell into a magnificent collection of 1920's beaded dresses! All the dresses are in near mint condition, and wonderful! This is one... a likely French (as it's beaded on the strong cotton netting that was most often from France or Belgium.) It's in the tabard style (open sides... so it's meant to be worn as an overdress over whatever you want! You can get creative and have loads of different looks with one dress! (Please note, you are just buying the overdress.. no slips, no velvet ribbons, no pins). Wear over white to "pop", where over light blue for subtle look, wear over red for that "Titanic" look, or even wear over black so it will just sparkle! The design of beading and sequins on this has a distinctively deco look (think New York's Chrysler Building!). There are 4 beaded medallions, one at each hip. Two identical panels sewn together at the shoulders and just briefly attached at the hipline. Each panel (so double numbers- but remember the bust/waist doesn't go all the way around!) Measures: 16" across bustline, 22" across waist and hiplines, 51" long from shoulder to hem. Wear a longer dress under if you want a floor-length look (so the overdress becomes a tunic).
SOLD - but on display in Museum Category for Research/Study
[Back]