Antique & Vintage Dress Gallery
www.antiquedress.com
5 IMAGES: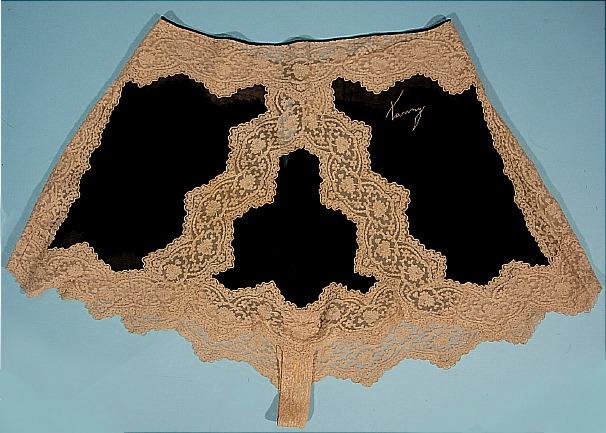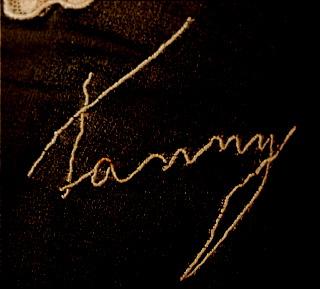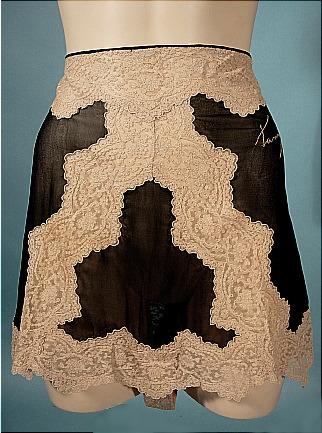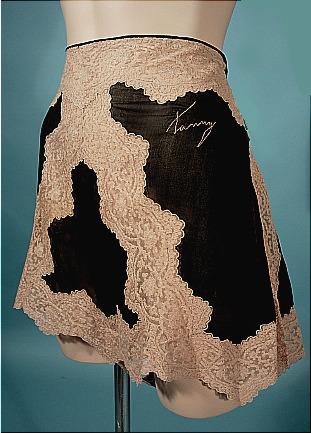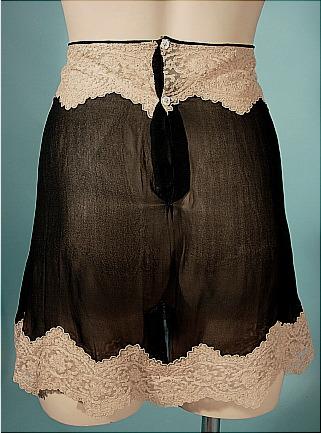 ITEM #5641
Please use this number to order
#5641 - c. 1920's Fanny Hyman's Sheer Black Chiffon and Ecru Lace Tap Pants! With Embroidered Name! LARGER SIZE! I will be listing quite a bit of 1920s-1950s lingerie of Ms. Fanny Rittmaster... who once married became Fanny Hyman! Fanny was born, bred and died living on the tony Park Avenue in New York City. She married in 1918 and throughout her life spent her summers in Cannes, France... where she bought much of her wardrobe and lingerie. These tap pants are the best of the lot! Black silk sheer chiffon with wide bands of ecru lace and the name "Fanny" embroidered at the upper right! Measures: 34" waist, 19" long from waist to bottom of crotch. Near Mint condition. These will look better on you, as they are WAY too large for the mannequin, so you miss seeing the lace sides, and it will hang nicer. The only thing to mention is that it still has Fanny's perfume scent... luckily her taste in scents was as nice as her taste in undergarments! :)
$ 235.
Approx. - Size 12 - 34" waist
(check measurements above)