Antique & Vintage Dress Gallery
www.antiquedress.com
13 IMAGES: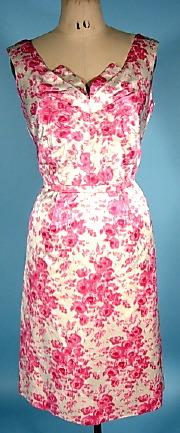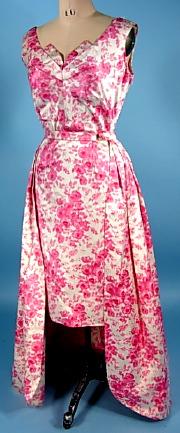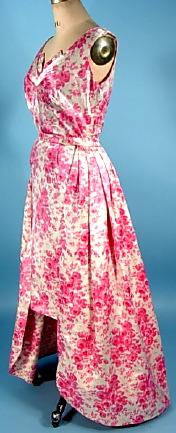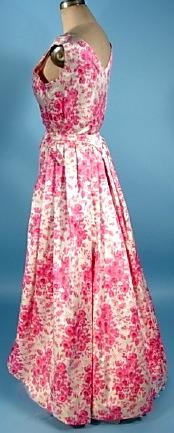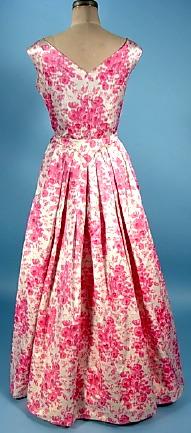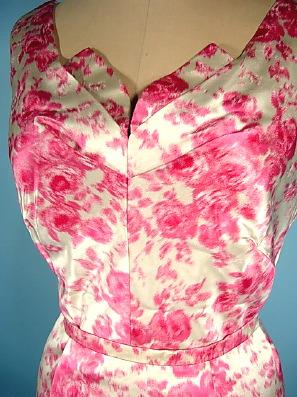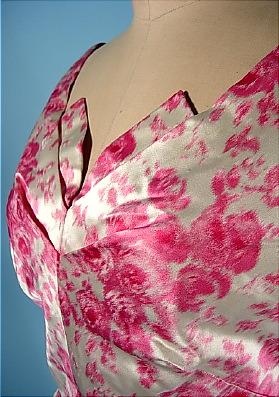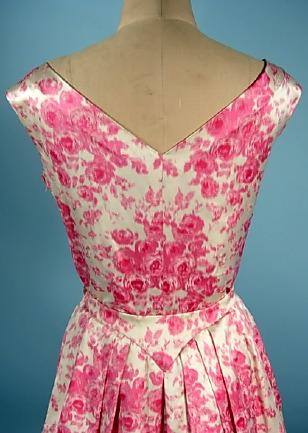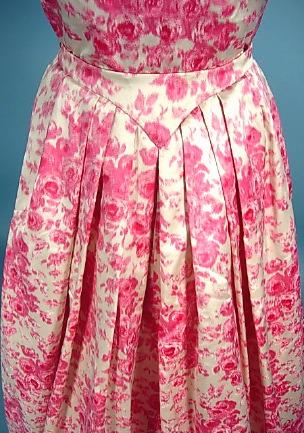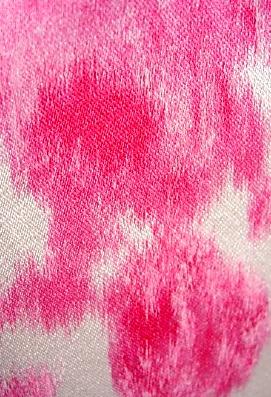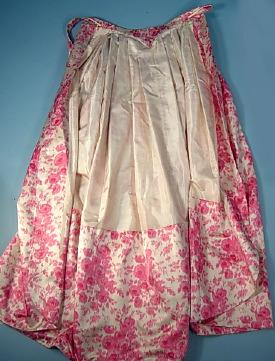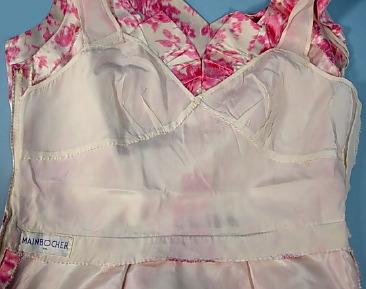 #4681 - c. 1959 MAINBOCHER, Inc. Celebrated Convertible Pink and White Printed Satin Dress with Evening Overskirt! LARGER SIZE! You may already know that my favorite gown of all time was Audrey Hepburn's Givenchy gown worn in "Sabrina" in the indoor tennis court scene. Tight in front, with a huge billowing long overskirt. So... I always seek out similar styles! And voila! I've found a beauty... and it's convertible!! Mainbocher was renowned for his custom-made pieces with impeccable dressmaker details. I've been told that his "convertible" gowns were coveted in the late 50's. This scrumptious piece begins as a simple cocktail dress of warp-printed pink and white floral satin, and comes with the original narrow self belt. For evening, the belt can be replaced with a sweeping peacock train long skirt with it's own attached belt. This dress/gown measures: 40" bust, 31" waist, up to 41" hips (with 4" additional material in the hip seam), 25" long skirt in front, 42" long skirt in back (with 3" hems). Excellent condition with one teeny fabric pull hard to see in the busy fabric. That's it! Near Mint!
SOLD - but on display in Museum Category for Research/Display
[Back]
EXTRA MAINBOCHER INFO... Even Mainbocher was impressed with himself! "I am the Rolls-Royce of the fashion trade" he said about himself in a Time Magazine article in 1963. The article continues that "his clothes are the most carefully made, the slowest to change, and among the most expensive in the world.... his clothes look like older money." "The integrity of luxurious fabrics, intricate cut, quality workmanship and materials, elegance and classicism were cherished and worn for years by Mainbocher's upper crust customers." Perhaps best known for designing the wedding gown and trousseaux for the Duchess of Windsor, Wallis Simpson.