Antique & Vintage Dress Gallery
www.antiquedress.com
14 IMAGES: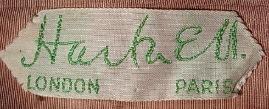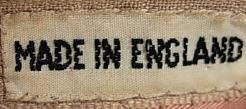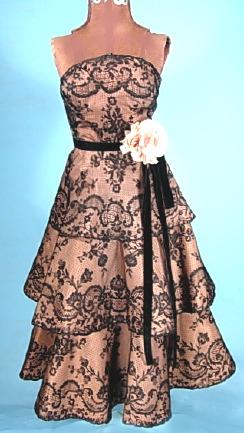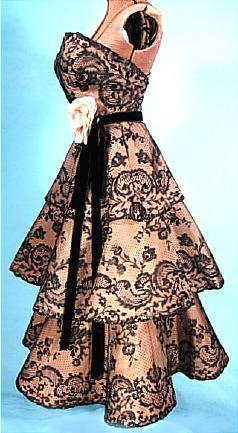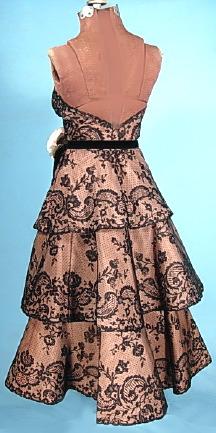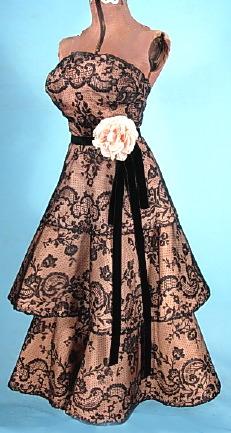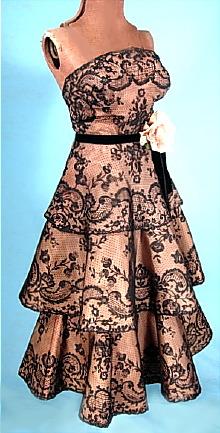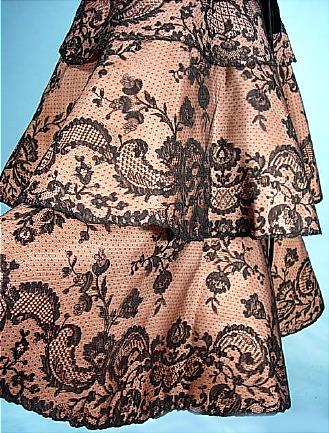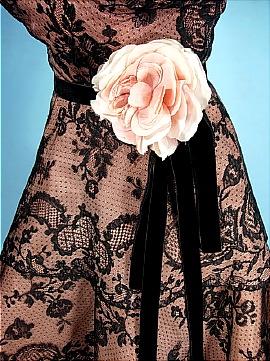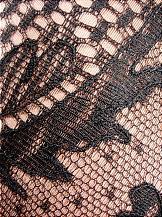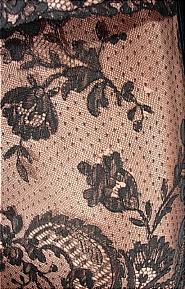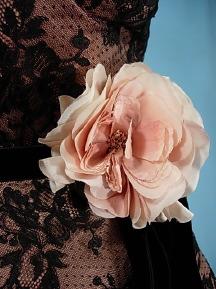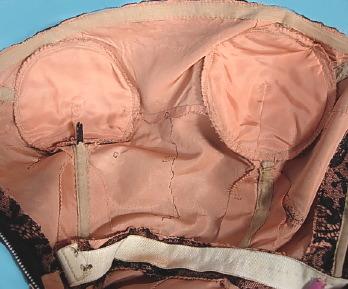 #4456 - c. 1953 Rare NORMAN HARTNELL, Made in England, London, Paris COUTURE Black Lace over Cinnamon/Nude Taffeta Ballet Length Evening Dress! Direct from the Queen of England! OK.. perhaps not.. but Norman Hartnell was appointed dressmaker to the British Royal Family in 1938, and the couture designer for Queen Elizabeth's 1953 coronation gown! He continued to be the Queen's designer for many years after. This has the older Norman Hartnell label, not the Hartnell salon label. Rare to find Harnell dresses.. especially of this quality and condition! Tiered skirt. Black velvet sash/bow with attached silk flower at waist. Net crinoline under. Side metal zipper. Padded bust. Made for an AMAZING figure... Huge breasts, tiny waist! Dolly Parton perhaps! That's the body type this dress needs... so if you have the tiny waist, and love this dress... it's time for the size E implants! Measures: 35/36" bust, 24" waist, 32" long from waist to hem. Please measure carefully. Excellent condition with a few minor exceptions. There is one bodice bone missing and the other is exposed inside (easy fix for a seamstress). The only issue outside is a tiny area of netting breaks on the skirt (see close-up photos) which can be strategically covered with one of the tails from the velvet bow. The silk flower is a bit wilted, but usually a steaming will perk that up. Hartnell's classic quotation was: "I despise simplicity. It is the negation of all that is beautiful." This dress is anything but simple! A RARE MUSEUM QUALITY DRESS!
SOLD - but on display in Museum Category for Research/Study
[Back]