Antique & Vintage Dress Gallery
www.antiquedress.com
8 IMAGES: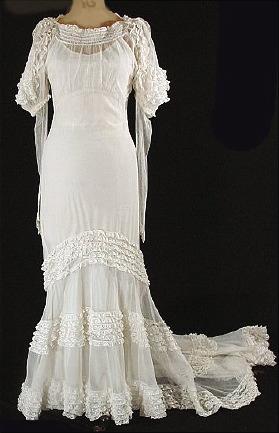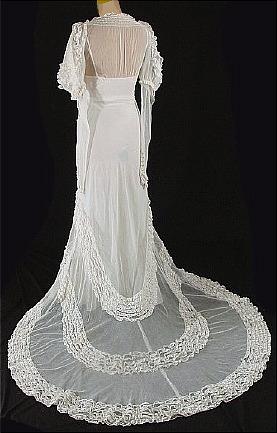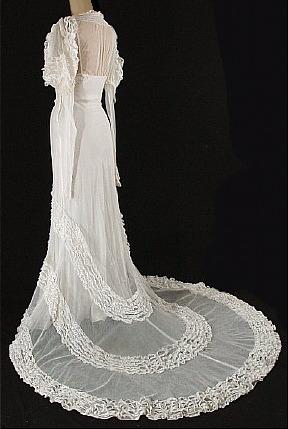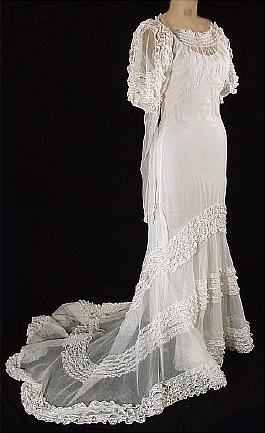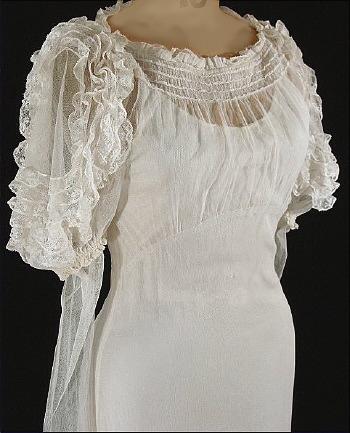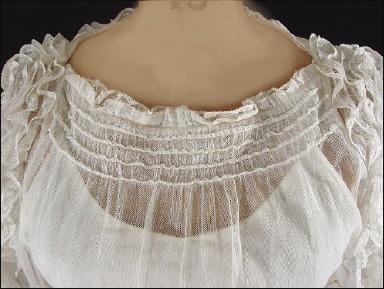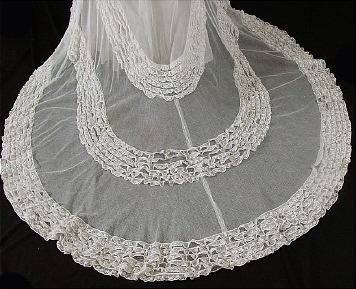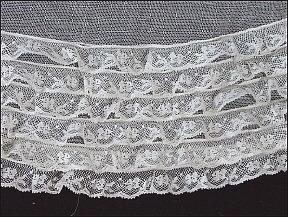 #4430 - c. 1930's Tiered Net and Lace Wedding Gown with Slip! SO hard to find! Exquisite 30's wedding gowns!! Remember, the Great Depression was raging, so purchasing fabulous wedding gowns was not the norm (go see the movie "Cinderella Man" to get a sense of the times!) Lets start with the off-white rayon slip (rayon was the NEW fashionable material!). Now.. ta da.. the amazing net overdress which will cling in the bias cut to your body and show off your curves! The dramatic mermaid skirt starting about at the knees and flares out to long train at back! Long tight net sleeves with pouf ruffled oversleeve. Round scoop neckline. All these elements highlighted with rows of delicate lace gathered trim! The dress snaps up the side and has hooks as well. Overall Excellent condition. There are a few repairs to the tuille...none of which are really noticeable except perhaps a tiny one in the front. It is in amazing condition for the age. If you don't like the long thin arms, you can always cut (eek! Don't tell anyone I suggested this! I'll deny it!) to just use the short ruffled oversleeves. The bias cut is always nearly impossible to measure. but it's small... I would say 30/31" bust, 24" waist (ish). Length: 56"in front from shoulder to hem, 78" at back.
SOLD - but on display in Museum Category for Research/Study
[Back]