Antique & Vintage Dress Gallery
www.antiquedress.com
9 IMAGES: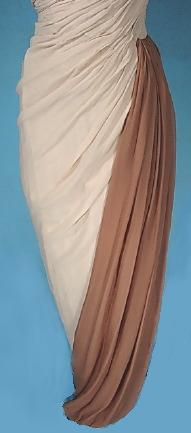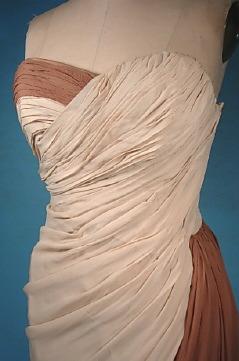 #4371 - c. 1955 LUCETTE BLONDEL COUTURE, Paris Beige and Brown Silk Chiffon Gown with Matching Huge Scarf! One of those gowns that belongs in a museum collection. I never heard of Lucette Blondel, but wish I had more of her gowns!! Draping like Jean Desses in a marvelous fitted body-hugging shape... with that dramatic "slice" of brown chiffon running though the gown! I'm showing the gown with and without the long, large chiffon scarf. Side metal zipper AND interior hook/eye bodice. One AMAZING gown!!! Museum quality design!!
SOLD - but on display in Museum Category for Research/Display
[Back]