Antique & Vintage Dress Gallery
www.antiquedress.com
11 IMAGES: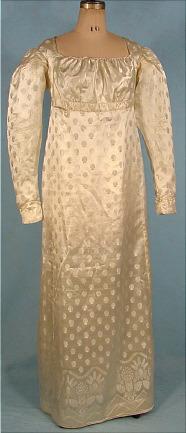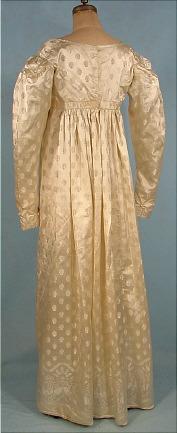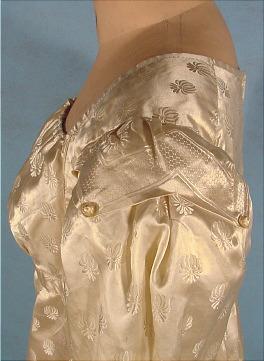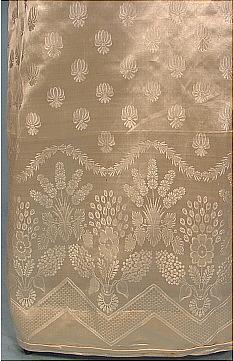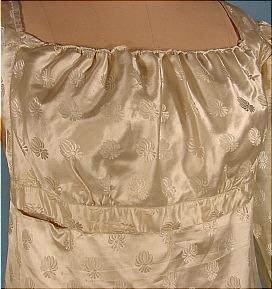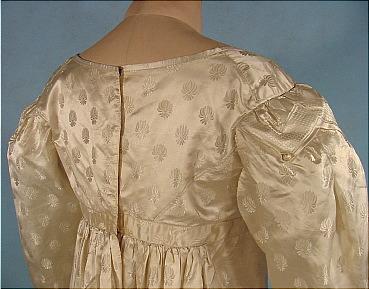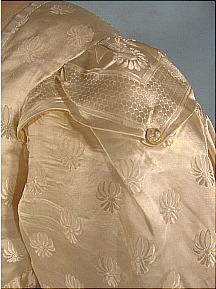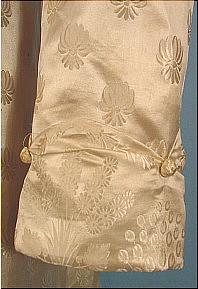 #3357 - c. 1810-1815 MUSEUM Figured Silk Empire Gown! This gown came from the obviously well-to-do Farnsworth Estate which included some phenomenal pieces. I was lucky enough to get two! This gown is the most exquisite. Nearly immaculate condition, extremely strong jacquard ecru silk gown with gorgeous cuffs and epaulette shoulder detail (see photos - I can't explain it better than seeing it!). The silk is woven all over with small flowerheads and at the bottom with a neoclassical inspired floral border. Sweet little pocket at the high waistband on right front. Slightly poufed sleeves. Square drawstring neckline. Hook and eye back. Gathered bodice. The only issue that makes this less than Near perfect are some minor rust spots near hemline. Measures: 35" bust, 58" long from shoulder to hem.
Farnsworth Family: Amos Farnsworth, Jr. b. April 28, 1754, son of Amos Farnsworth and Lydia Longley of Groton, MA., fought in the battle of Bunker Hill and wrote a diary chronicling his experience. The diary is in the collection of the Massachusetts Historical Society. He married Elizabeth Rockwood on May 7, 1782 and produced ten children.
SOLD, but on display for Research/Study
[Back]