Antique & Vintage Dress Gallery
www.antiquedress.com
8 IMAGES: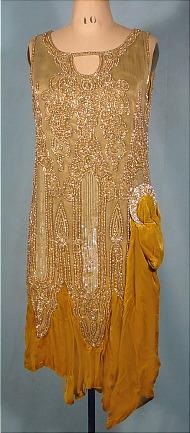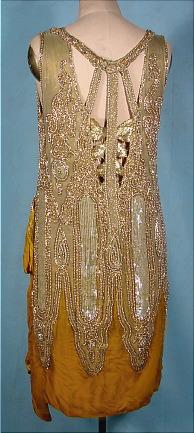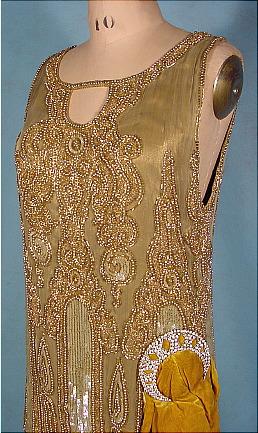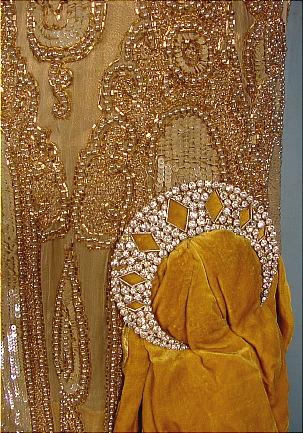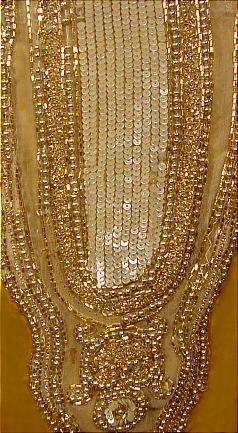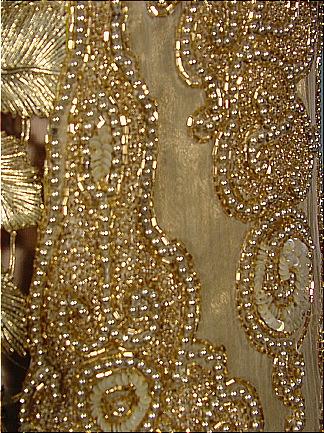 #3177 - c. 1926 Gold Bullion Lame Flapper Dress with Beaded Net, Gold Velvet and Rhinestone Ornament! I've had lots of beaded flapper dresses in my day, but... every once in a while a truly special dress pops up! I don't know if you've ever seen true gold lame... but prior to the 1940's, the best lame is like spun gold. I have heard that there is actual gold in this type of lame, and I would not be surprised since it glistens only like gold does! The intricate beading and design makes me believe this is a Parisian garment, but alas... no label so I can't guarantee.. but for those of you "in the know", you will probably agree it has the right look. Wonderful cutout upper back with gold "embroidered leaves" at the lower back bodice. Bottom of the dress is gold silk velvet in an uneven hemline... heading toward the long hankerchief hemlines of the late 1920's. The dazzling, large rhinestone ornament at the side waist is fabulous! High quality garment! Measures: 34" bust, up to 39" hip, 40" long. Excellent condition... just needs steaming of velvet (wrinkled).. and it likely had an underslip since the underarms are low (that's good for ease of wear!).
[Back]