Antique & Vintage Dress Gallery
www.antiquedress.com
7 IMAGES: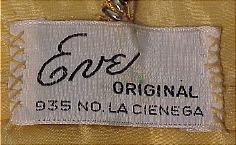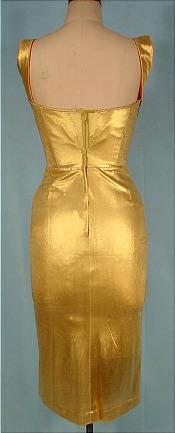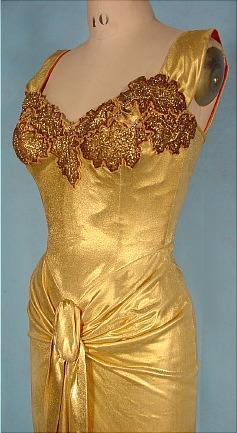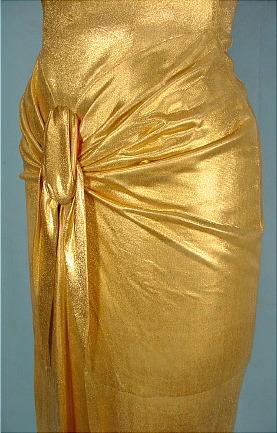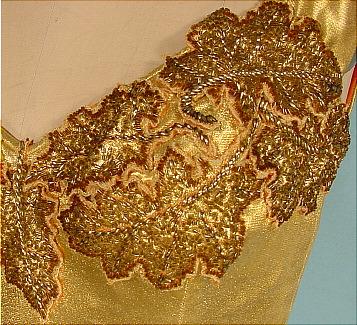 #2807 - c. 1950's Gold Lame EVE ORIGINAL Beaded and Embroidered Bodice Dress/Gown! If you've got the body, you will want to "pour" it into this! The sexiest little number I've ever seen. From a dressmaker in Hollywood (at 935 No. La Cienega). You will look like an Oscar Statue. Liquid gold lame... nothing like the lame you see today... and not like the lame from the 1920's. Hard to describe, but you can see the quality shine! It's really a basic shape, but the fabric, draping and the beaded breasts make is incredibly special. Even the lining is orange! So you see just a hint of it under the shoulder straps, matching the slight orange threading in the beading and embroidery leaf appliques on the breasts. The fabric is slightly stretchy (which allows it to hug the body). SEXY! The dress isn't perfect in bright daylight... you will notice (especially at the mid back skirt) that the gold lame has flaked (lost a thin layer of gilt) in that area... with one pindot size wear. It is seen in certain lights better than others, and you can't see it at all in the photos, and really won't see it at all in the evening (and since this is a dress unlikely to be worn at the grocery store, it's probably not a huge deal). The dress is so unique and so special that you just have to forgive it. Measures to fit tight at: 32/33" bust, 25" waist, 36" hips, 45" long from shoulder to hem, however there are an additional 13" inside hem!!! So this dress can double as a gown!!!!
SOLD - but on display in Museum Category for Research/Study
[Back]